DEC. 20 – ACTION ALERT: NEW COURT DATE & RALLY
Justice for Epona Rose!
Drop the Charges! Trans Liberation, No Negotiation!
Wednesday, December 20th (day before the Winter Solstice).
RALLY: 10:30am
COURT: 11:00am
At Coconino County Superior Court
200 N. San Francisco St.
Downtown Flagstaff, AZ
Please help fill the courthouse and show solidarity with Epona. If you plan on entering the court building, bring ID (no weapons etc).
On the morning of August 11th, Epona Rose was attacked in downtown Kinłani/Flagstaff, Arizona by a group of three men while two or more watched.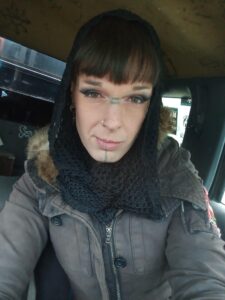 The men were drunk and sexually harassing her in a way that was making her feel unsafe. The harassment escalated to threats of rape, and then to actual physical violence, when they realized she was transgender. Epona defended herself bravely against this attack and did not call the police. She was then punished for this when the cops arrived and arrested only her.
The longer Epona fights these charges, the much more risk she is exposed to as a trans woman and abolitionist. We cannot let Epona be made an example out of for demanding the basic rights of genderqueer, third gender, Two Spirit, and/or trans people to exist.
"In the year of a state of emergency, I'm still alive. I defended myself against three men. They classified me as a male in here. I don't feel safe around other men."

Epona